The Carolina Belle Project is located in Montgomery County, 4km north-northwest of Candor, North Carolina and has several greenfield to brownfield exploration prospects with well-defined and potentially continuous zones of low sulphidation epithermal gold mineralisation already identified from historic mines and surface workings.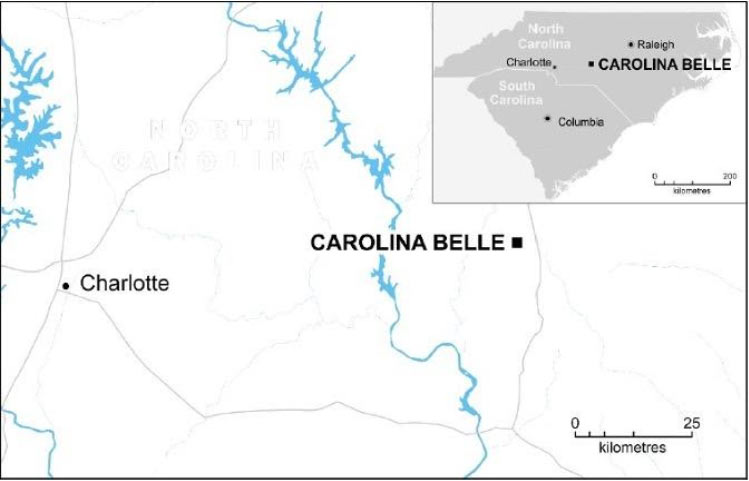 Two adjacent historic gold mines, known as Iola and Uwarra, that mined the same series of gold bearing veins are located on the Carolina Belle Project. Discovered in 1901, the area was mined almost continuously until 1916 collectively producing approximately 50,000oz of gold until a dispute between the neighbouring mines prevented continued mining activities. Ores from the mines at Carolina Belle were reported as free-milling and successfully treated with cyanide with 95 per cent.+ recoveries. A single lode was mined down to 200m on the Iola mine side and to a depth of 100m at Uwarra along a combined strike of 650m with a reported mine grade between 10 – 15g/t Au.
There is potential to extend existing zones of gold mineralisation along the lithostratigraphic horizon and discover additional feeder veins and alteration associated with a larger system. Mineralisation might also be discovered below shallow Cretaceous sediments that are 515m thick to the south.
There has been little documented historic exploration at the Carolina Belle Project area.
Apart from the mining activities between 1901 and 1916, only limited historic exploration has been completed, including: nine diamond drill holes in the 1980s by U.S. Borax Inc. targeting the historic underground workings of Iola-Uwarra, and one diamond core hole by Piedmont Mining Company, Inc. in 1983. The drill programme targeting the historic workings was deemed unsuccessful with a majority of the drill holes reportedly failing to encounter mineralisation and presumed to have intersected voids associated with the underground workings. Representative samples of some of this core are available for review at the North Carolina Geological Survey organisation located in Raleigh.
Previous exploration work completed by CGR between 2015 and 2016 includes:
Acquisition and interpretation of detailed LIDAR images
Compilation of available datasets including regional geology and land titles into a GIS database; and
Surface dump sampling and multi-element geochemical analysis with high grade grab samples obtained from banded quartz veins including 28.10g/t Au, 27.50g/t Au, 18.45g/t Au and 17.25g/t Au. The sericite-pyrite alteration wall rock contains 0.5 to 0.9g/t Au.