The combined Jones-Keystone Properties and the Loflin Properties which is located along strike to the south west of Jones-Keystone, are referred to as the JKL Project.
The Jones-Keystone project area was initially mined by small scale prospectors from 1852 with intermittent production until the Civil War (1861) and then again up and until the mid-1930s. United States Geological Survey geologists estimated in 1948 that 30,000 to 40,000t of rock had been mined from two pits producing 5,000oz of gold. Between 1934 and the 1960s, additional mining activities were undertaken with the development of two larger pits and several shafts with remnants of a mill and mill footings, although no production records are known from that time.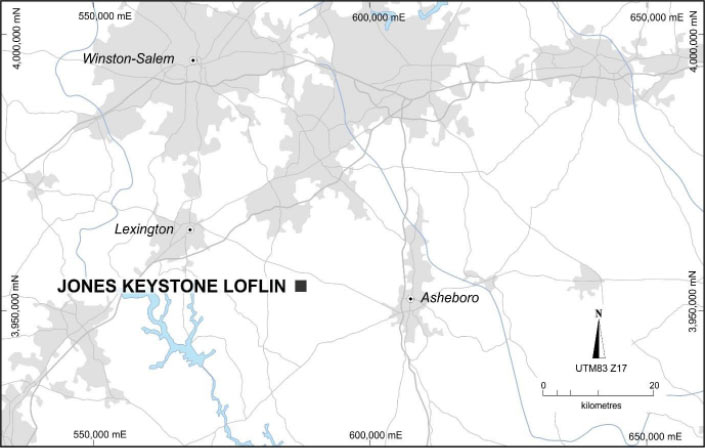 The Loflin Properties show evidence of pits, trenches, shafts, adits and glory holes at several workings within a few hundred metres on either side of Loflin Hill Road collectively called the Loflin Hill Mine area. It appears that much of the mining activity was undertaken during the Great Depression years by local farmers during the winter months, however there are no known production records from the historic Loflin workings.
The JKL Project area contains evidence of widespread gold mineralisation identified from historic workings. The properties comprise greenfield to brownfield exploration targets with well-defined and potentially continuous zones of gold mineralisation delineated from previous drill programmes and supported by geophysical surveys. There is evidence of widespread gold mineralisation with grades ranging between 0.5g/t to 2.5g/t within a structurally complex setting typical of the Carolina Super Terrane (CST). There remain a number of geophysical and geochemical anomalies that warrant further investigation to delineate disseminated sulphide-gold mineralisation.
The geology of the Loflin Properties and Jones-Keystone Properties is similar to that found at the third-party Ridgeway, Haile and Russell mines and other mineralised zones within the district. These similarities were recognised by companies such as Cyprus Mines Corporation, ASARCO Exploration Co Inc., Noranda Inc. ("Noranda") and Phelps Dodge Corporation between the late 1960s and 1990s exploring for bulk mineable style gold.
Previous drilling at Jones-Keystone include the following intersections:
| | | |
| --- | --- | --- |
| Hole | From | Interval |
| JK10-006 | 184m | 54m @ 1.56g/t Au |
| JK11-017 | 28m | 104m @ 1.27g/t Au |
| JK11-036 | 45m | 16.7m @ 1.36g/t Au |
| JK11-048 | 104m | 34.5m @ 1.14g/t Au |
| JK-18-054 | 107m | 41m @ 1.36g/t Au |
Previous drilling at Loflin include the following intersections:
| | | |
| --- | --- | --- |
| Hole | From | Interval |
| LOC90-01 | 0m | 48.8m @ 1.12g/t Au |
| LOC90-02 | 0m | 81.7m @ 1.06 g/t Au |
| LF11-030 | 0m | 32m @ 1.34 g/t Au |
| LF11-039 | 17m | 31m @ 1.12g/t Au |
| | | |